The Fracchia Prize – 2020
Now Sponsored by San Francisco Recreation and Park Department and San Francisco City Guides
The San Francisco Historical Society is excited to announce the second annual Fracchia Prize. This contest is sponsored by San Francisco Recreation and Park Department and San Francisco City Guides, and endorsed by Mayor London L. Breed. It is open to any student attending a high school in San Francisco.
Charles A. Fracchia (pronounced FROCK-ee-ya) is the founder and President Emeritus of the San Francisco Historical Soc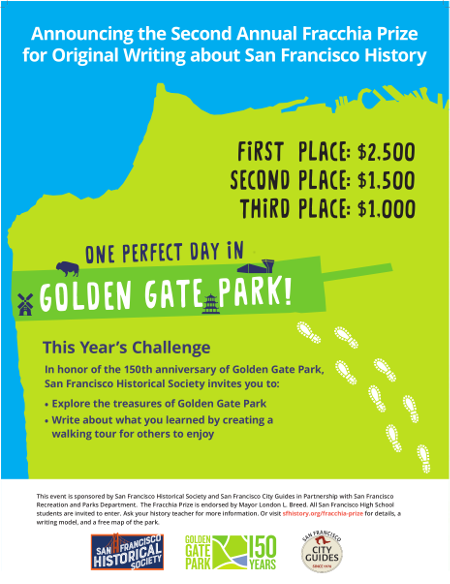 iety.
This year we are inviting San Francisco's high school students to research Golden Gate Park and create a guided walking tour. This year's competition honors the 150th anniversary of Golden Gate Park. Interested students will write a 1200-1600 word guided walking tour that highlights the history of six to eight places of interest in Golden Gate Park.
Instructions for submission are located on the Fracchia Prize 2020 Entry Form (pdf).
Prompt: One Perfect Day in Golden Gate Park
Chose a section of Golden Gate Park to explore. Write a walking tour that stops at six to eight places of interest in that section of the park. Tell the history of each place where your tour stops.
Students may use the sample Walking Tour as a writing model, and the annotated map of the park (14 MB PDF, may take time to download) to help therm choose their stops.
San Francisco City Guides is co-sponsoring the 2020 competition by offering free guided tours for students through Golden Gate Park and by leading two workshops to coach students on what makes a great walking tour.
Find out more about how City Guides is supporting the Fracchia Prize here.
Deadline for Submission: April 15, 2020
Prize Awards:
First Place – $2,500 and publication of the work in The Argonaut
Second Place – $1,500 and publication of the work in Panorama
Third Place – $1,000 and publication of the work in Panorama
All entries will be judged by a panel looking for strong writing skills, well chosen stops, accurate information, proper citations, and the possible use of primary and secondary sources.
Winners will attend a special ceremony in Golden Gate Park to receive their awards.
Please download and fill out the Fracchia Prize 2020 Entry Form (pdf).
You must be a resident of San Francisco to apply.
Deadline for Submission is April 15, 2020.
Please submit by email along with your article to:
fracchiaprize@sfhistory.org
Writing to be between 1200 and 1600 words (double spaced).
All writing must be yours (no borrowing other's text or use of extensive quotations).
Article file format: PDF is much preferred (a Google doc can be downloaded as a PDF file; the free and open source OpenOffice or LibreOffice also export PDF format); in case you have Word, you may submit in this format. Please keep your submission under 10MB file size. Whatever word editor you use, please make sure to keep a copy of your article AND associated image files in their original formats for possible further editing.
Photography is optional and should be kept, if used, to no more than 3 shots.
---
2019 Fracchia Prize Winners!
First Place: Art Activism: San Francisco's History of Counterculture and Its Impact on the Mission District by Sofia H.G.
Published in: Vol. 30  No. 1 issue (Summer 2019) of The Argonaut
Second Place: Living on the Edge by Allison D.
Published in: 3rd quarter 2019 issue of Panorama
Third Place: Mission Bay by Yanzhu G.
Published in: 4th quarter 2019 issue of Panorama