The Fracchia Prize – 2019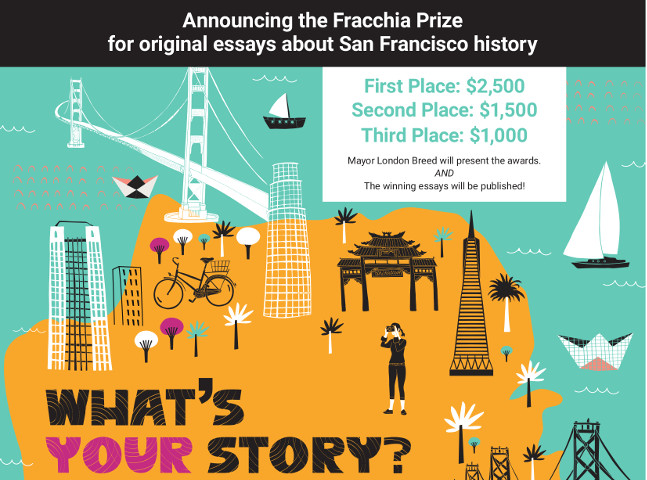 2019 COMPETITION SUBMISSION PERIOD HAS CLOSED!
THANK YOU TO ALL PARTICIPANTS!
The San Francisco Historical Society is excited to announce the Fracchia Prize.  This contest is endorsed by Mayor London Breed. It is open to any student attending a high school in San Francisco.  Interested candidates are required to submit an original and properly cited essay consisting of between 1200 and 1600 words, based on the prompt.  The work can include up to three high definition photos that support the argument of the scholarly work. Entries may be submitted electronically by email (or mail as a last resort).
Charles A. Fracchia (pronounced FROCK-ee-ya) is the founder and President Emeritus of the San Francisco Historical Society.
Prompt: How does the history of my neighborhood affect my life today?
Deadline for Submission: March 8, 2019
Prize Awards:
First Place – $2500 and publication of the work in The Argonaut
Second Place – $1500 and publication of the work in Panorama
Third Place – $1000 and publication of the work in Panorama
All entries will be judged by a panel looking for critical historical thinking skills, including research, accurate citations, and the possible use of primary and secondary sources.
Winners and their history teachers will attend a special ceremony in the spring hosted by Mayor London Breed at her offices in City Hall.
You must be a resident of San Francisco to apply.
Deadline for Submission: March 8, 2019.
Writing to be between 1200 and 1600 words (double spaced).
All writing must be yours (no borrowing other's text or use of extensive quotations).
Article file format: PDF is much preferred (a Google doc can be downloaded as a PDF file; the free and open source OpenOffice or LibreOffice also export PDF format); in case you have Word, you may submit in this format. Please keep your submission under 10MB file size. Whatever word editor you use, please make sure to keep a copy of your article AND associated image files in their original formats for possible further editing.
Photography is optional and should be kept, if used, to no more than 3 shots.